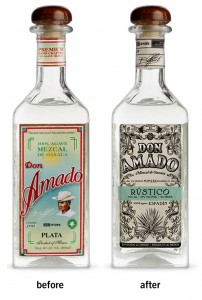 Wexler of California was commissioned by Las Joyas del Agave to rebrand their Don Amado line of mezcals. The specific goal of the project was to increase sales: although Don Amado was well-regarded for its quality, many bars and retailers declined to carry the product simply based on the design of the label. The mezcal is made at a rural distillery near Santa Caterina Minas in Oaxaca, Mexico by an 11th-generation family in the traditional manner: Espadín agave are smoke-roasted in earthen stone-lined pits with cypress and mesquite, chopped and shredded, open-air fermented to capture wild yeasts, then distilled in ceramic pot stills. Its reposado and añejo bottlings are aged for six and eighteen months, respectively, in barrels that formerly held Pedro Domecq Mexican Brandy. Along with the rebranding, the plata / joven expression saw a boost in proof and a renaming as "rústico."
As part of the discovery process, Wexler of California Design Director Dave Stolte traveled to Oaxaca with Las Joyas del Agave founder Jake Lustig to gain a better understanding of what makes Don Amado mezcal unique – crucial to the storytelling aspect of a successful design. Over four days, they toured the city of Oaxaca and nearby smaller towns, soaking in the local color and culture. A visit to the distillery and a hike through the adjacent agave fields were central to this immersive experience.
Upon returning to Wexler's studio, designs were developed and executed for the logo itself, then the labels, then sales and support materials. Many possible visual approaches were considered to tell Don Amado's story: from the handlettering found on the walls of local shops in Oaxaca, to a more refined and elegant simplicity, and then the final direction: frontier rustic with a European-influenced elegance inspired by wrought-iron scrollwork. The logo was handlettered, the decorative illustrations were custom-drawn to suit, and a palette of colors and typefaces was selected to complement the new design.
The new bottles are now available across the country, and – as intended – sales and accolades are seeing a dramatic increase.